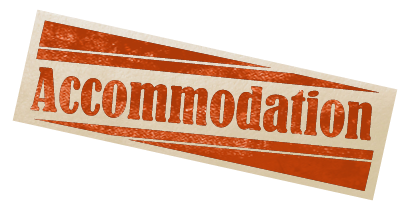 There are endless choices on accommodation types.
We are offering you a great range whether you like hotels small and simple, or grand and luxurious, self-contained apartments, low cost motels or hostels or a Guesthouse with a warm and personal feel.
What are the different kinds of accommodation?
HOTEL – Short term overnight accommodation.
RESORT – Accommodation providing a wide verity of amenities and recreational facilities. It is more about the experience. Usually used for vacation or getaways.
B & B – Some sort of breakfast is included with your hotel night stay. The breakfast menu can range from a drink or coffee with a roll to a full breakfast.
APARTMENT RENTAL OR FLAT – Usually has a kitchen, sleeping area and bathroom not shared.
Hostel – Shared bedrooms & bathrooms (anyone they rent them to – no choice of roommates)
Some hostels have private bedroom or bathrooms at an extra price. Mostly used by young single
travelers.
PENSION – Usually a family run Bed and Breakfast
MOTEL – Rooms usually open out to a parking lot. As the name implies it caters mostly to motorists.
LODGE – Usually out in nature, often made from logs, wood or other natural material.
INN – An inn is a small hotel usually either in the country or with a pub or tavern. A lot of the time they also have food available there.
CAMPUS OR DORM ROOM – College room style, usually with twin beds or bunk beds.
BUNGALOW/CABIN – A small house or cottage is often called a bungalow. People call all kinds of houses bungalows so check with us what is available for your destination.
VILLA – Usually a country estate made up of several buildings or structures tied together. In some countries a villa could be just a vacation house or in other places a detached or semi-detached house.
RESORT – Along with the hotel room will be common area amenities such as a swimming pool, dining room, game room, workout facilities, etc.
GUEST HOUSE – A house used to rent on a short term basis for travelers
In some locations you can find unique Theme Accommodations such as Lighthouse, Cave, Ice Hotel, Railway Car, Underwater Hotel, Tree House, Dog House, House boat, Hotel with theme rooms, Castle, Cabin, Airplane Hotel, Utopia Bubbles and much more.
Depending on the country that you are traveling the names of the type of accommodation may change. There are many different choices when it comes to picking your vacation accommodations.
Maybe next time look through this list and see if there is one you would like to try that you hadn't thought of before and contact us for a quote or to get advice on which type would suit your plans best.
If you are organizing an event and require venue or conference room hire, we have access to the best rates available and we are looking forward to help you find the perfect place.
We are cooperating with partners worldwide in order to provide you with the best selection of accommodation and focusing on providing a personal service for your travel needs.